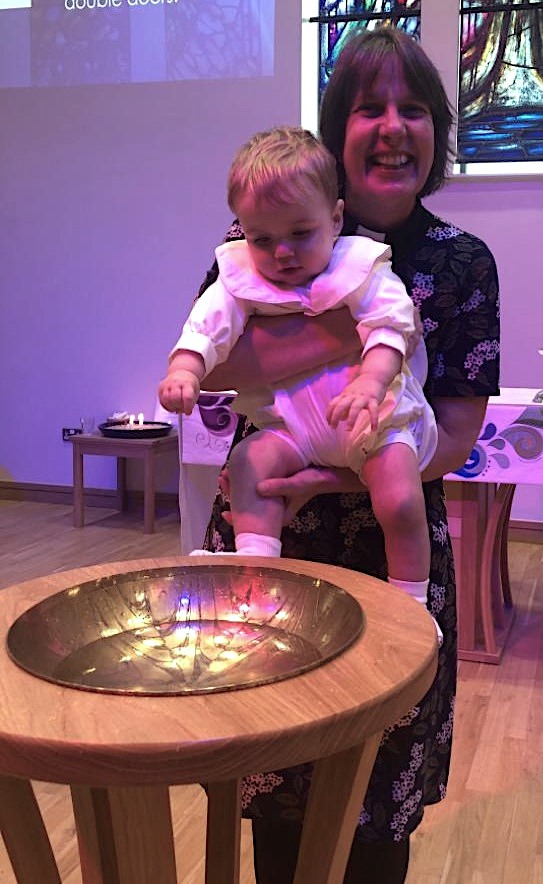 A baptism (also known as a Christening) is a great occasion for celebration! For those who are baptized as babies it's the first of life's great milestones, but more than that it's a chance to pray for God's blessing as a child becomes a member of his family, the Church.
God's call is for everyone, though, and there is no age limit for baptism. Anyone who is exploring the new life which Christ brings and who has not yet been baptized is welcome to contact us about baptism.
If you'd like to discuss baptism for you or your child either phone our church office or speak to us after a Sunday service. We'll arrange to meet with you to discuss the process of preparation and to arrange a suitable date.
Key moments approaching Baptism
In a baptism service parents promise to bring their child up within the church family, so it's important to make a connection with the congregation at St Mary's as the big day approaches. Therefore, as well as booking your baptism date we will also arrange with you a date for a Thanksgiving, usually a few weeks before. Here, within one of our regular 10.30am Sunday services, you'll be asked to come to the front for a prayer which gives thanks to God for the gift of your child.
Baptism involves some demanding promises, so it's important to be spiritually ready for the service when it comes. A baptism preparation session will provide you with space to think through the importance of the words in the service and the meaning of the symbols used.
The Baptism Service
Baptisms always take place on a Sunday and our preference and suggestion is that it is integrated into one of our 10.30am services at the Coppice School. This provides a wonderful sense of "welcome" into God's family here among our regular congregation. In exceptional circumstances other options can be discussed.
What next?
Baptism is only the very start of a journey of faith which we hope and pray will last your child's whole lifetime. St Mary's is pleased to be able to offer lots of opportunities for your family to join in the life and worship of the church as your children grow up. Browse the rest of this site to find out more.
Baptism for older children and adults
When children are old enough to understand something of what is happening in baptism it is important that they are consulted in the decision and are involved in preparation process. Then, at the baptism service children will need to answer that they wish to be baptised and will often join in with the promises alongside parents and godparents. If a child has reached their teenage years it will be necessary for them to have a more in-depth level of preparation for baptism, perhaps as a part of a course with other candidates.
Equally, baptism as an adult is an important faith decision and needs careful consideration and preparation. Therefore we will usually require an adult candidate to attend a short course to reflect on some of the issues involved.
For more information please get in touch.